Podcast: Play in new window | Download
Subscribe to the show in iTunes.  You can also leave a quick rating or leave a review.
Check out the new D&D Show YouTube page
Show Notes:
College Football: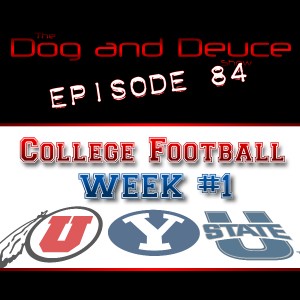 The Utah Utes, BYU Cougars and Utah State Aggies all open their seasons today.  We break down what you can expect to see from each team heading into their games and make our predictions.  Can all three teams walk away with a victory?
Here is the link to see the proposed blackout helmet for the Utes.
NFL:
We conclude our NFL preview by breaking down the NFC.  Who will win each division?  How much of a factor with the referee lockout play?  Is defense the biggest key to making a Superbowl run?
___________________________
Call or text the D & D Voicemail and Text Line at 801-47-SPORT (801-477-7678) and let us know what you think
Subscribe, rate or review us in iTunes
Check us out on YouTube
Leave us a comment on Facebook
Find us on Google Plus
Follow us on Twitter: @DogAndDeuce
Follow Dog on Twitter: @TheDog801
Send us an email at Feedback@DogAndDeuce.com

Opening and closing song: "Salt Lake City" by The Dwarves.  Music for this episode provided by Mevio's Music Alley.  Check it out at music.mevio.com