Podcast: Play in new window | Download
Subscribe to the show in iTunes.  You can also leave a quick rating or leave a review.
Check out the new D&D Show YouTube page
Show Notes:
College Football
Should teams be given an automatic bye-week either before or after playing a Thursday game?  Does having such a short turnaround put the players at risk?  Is it an unfair advantage for the opponent?  We tackle this issue and some up with some surprising answers.
Holy War 2012 – BYU Cougars at Utah Utes
Wow.  There's no other word to describe what went down at Rice Eccles Stadium on Saturday night.  In what was one of the most bizarre finished this rivalry – and possibly all of college football – has ever seen the Utah Utes hung on by the smallest of threads to get the victory over the arch rival BYU Cougars.
We break down every possible facet of this game and recap the positives and negatives that both teams took away from this game.  Is Riley Nelson hurt?  Should Brandon Doman get Michael Alisa more involved?  Can Jon Hays continue his surprisingly solid play?  Should Travis Wilson even step on the field the rest of the season?
BYU Cougars
The Cougars have no time to rest as they prepare to take on the Boise State Broncos in Boise, Idaho.  How does their experience in Rice Eccles only a few short days before prepare them to enter another hostile environment?  How much of an advantage do the Broncos have with BYU having a limited amount of time to get ready?
The Big East rumors are heating up again.  Should BYU fans hope for their team to get an invitation?
Utah Utes
With the grueling game against their arch rivals behind them, the Utah Utes now face the task of heading to Tempe, Arizona to take on the Arizona State Sun Devils.  What did the Utes learn from the Holy War that could help them going into this match up?  Can Utah's offensive line get pressure on a young quarterback?
Utah State Aggies
Utah State lost a heart breaker to Wisconsin last week.  Fortunately for the Aggies they have a good shot at redemption as they travel to Fort Collins to take on Colorado State.  How likely are the Aggies to win out the rest of the season?  Besides BYU, can any team they face even give them a challenge or will the ghosts of last season come back to bite them?
NFL
Week 3 Picks
Deuce managed to pick up a game last week but this race is close and just getting started.  Here are this week's picks: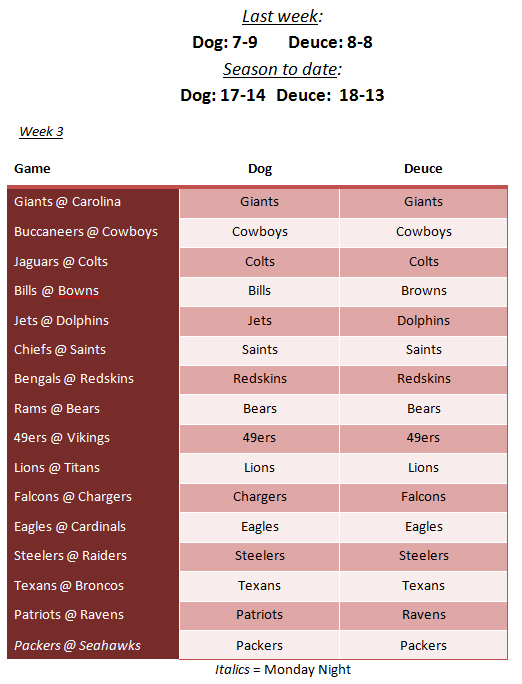 ___________________________
Call or text the D & D Voicemail and Text Line at 801-47-SPORT (801-477-7678) and let us know what you think
Subscribe, rate or review us in iTunes
Check us out on YouTube
Leave us a comment on Facebook
Find us on Google Plus
Follow us on Twitter: @DogAndDeuce
Follow Dog on Twitter: @TheDog801
Send us an email at Feedback@DogAndDeuce.com

Opening and closing song: "Salt Lake City" by The Dwarves.  Music for this episode provided by Mevio's Music Alley.  Check it out at music.mevio.com