Podcast: Play in new window | Download
Subscribe to the show in iTunes.  You can also leave a quick rating or leave a review.
Check out the new D&D Show YouTube page
Show Notes:
College Football
Utah State Aggies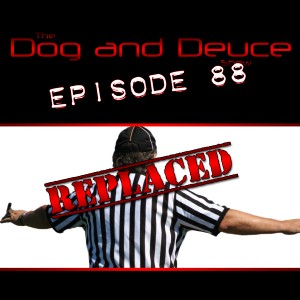 Utah State looks to have fixed last year's problem of letting giving up big leads down the stretch after beating Colorado State by double digits last week.  With both BYU and Utah losing in embarrassing fashion, can it be argued that the Aggies are the best football team in the state?
Can they make it two wins in a row this week against UNLV in Logan?
Kerwynn Williams has done an excellent job of filling the shoes of Robert Turbin & Michael Smith.  Can Utah State become a running back factory much like the rival Utes of recent years?
Utah Utes
The Utes are coming off an embarrassing loss against Arizona State in which nothing went right.  After that game there are so many apparent problems, is it even possible for Kyle Whittingham and his staff to fix what's wrong?
After such an poor performance is it good or bad that Utah has a bye week before taking on USC at home?
After putting up more than 80 yards on 13 carries against Arizona State, should Kelvin York be getting more playing time?
Is there any hope for Utah's offensive line?
BYU Cougars
BYU had a chance to send their game against Boise State into overtime by simply kicking an extra point.  Instead Bronco Mendenhall decided to attempt a two point conversion that would win the game.  The Cougars failed to convert and as a result lost to the Broncos by one point in Boise, Idaho.  What that the right call?
Unfortunately the Cougars are facing yet another quarterback controversy.  Riley Nelson looks injured and has really hurt the team in the last two games.  Is it time to let Taysom Hill take over until Nelson can get healthy?  Or has Nelson earned the right to get the start if he thinks he's healthy enough?
What can we expect to see this week as the Hawaii Warriors come to LaVell Edwards Stadium on Friday?  Can BYU bounce back?
NFL
Week 4 Picks
Despite really struggling last week we tied, which means Deuce is still holding onto a 1 game lead going into week 4.  Here are the picks: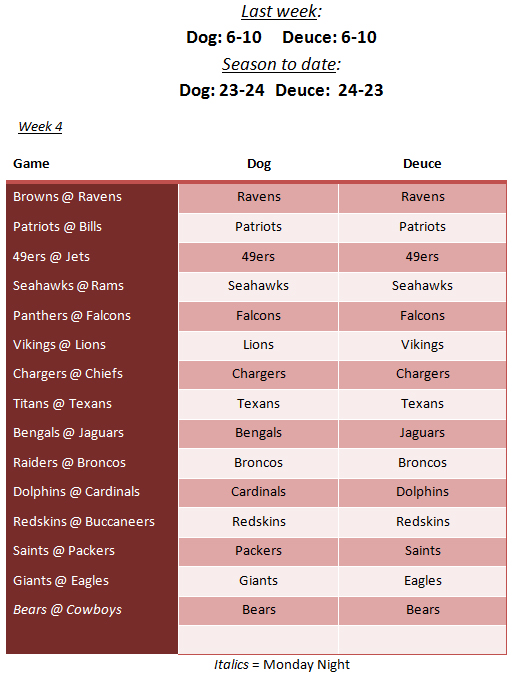 ___________________________
Call or text the D & D Voicemail and Text Line at 801-47-SPORT (801-477-7678) and let us know what you think
Subscribe, rate or review us in iTunes
Check us out on YouTube
Leave us a comment on Facebook
Find us on Google Plus
Follow us on Twitter: @DogAndDeuce
Follow Dog on Twitter: @TheDog801
Send us an email at Feedback@DogAndDeuce.com

Opening and closing song: "Salt Lake City" by The Dwarves.  Music for this episode provided by Mevio's Music Alley.  Check it out at music.mevio.com