Podcast: Play in new window | Download
Subscribe to the show in iTunes.  You can also leave a quick rating or leave a review.
Check out the new D&D Show YouTube page
Show Notes:
Interview
Bobby Wagner – Seattle Seahawks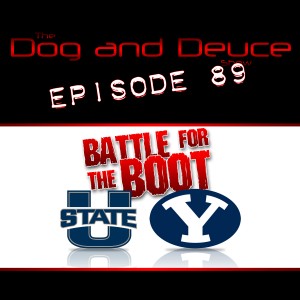 Bobby Wagner was one of the best linebacker's the state of Utah has ever seen.  Playing for the Utah State Aggies he was aggressive, tough and quick.  His consistently impressive play got him to the NFL and as a rookie, he has started every game for the Seattle Seahawks.  Bobby was kind enough to give us a few minutes of his time to talk Aggies, Seahawks and what it is like playing with college teammate Robert Turbin.
Unfortunately the cell phone gods got us and we were disconnected with Bobby right in the middle of our discussion.  Although the interview is a bit abbreviated, he still delivered a ton of insight and we appreciate his time.
Follow Bobby Wagner on Twitter: @Bwagz54
College Football
Utah State Aggies vs. BYU Cougars
The Aggies head to Provo to face the Cougars in the renewed rivalry.  How will BYU's defense handle Chucky Keeton?  How well with the Aggies be able to move the ball?  Who is really the underdog in this match up?
Utah Utes
After getting embarrassed by Arizona State, the Utes return home to face Matt Barkley and the USC Trojans.  Both of us pick USC, but one is much more optimistic that Utah could make it interesting.  Can we expect to see any sort of improvement from the struggling offensive line?  Is the Ute defense really as bad as they looked in the last game?  I USC over hyped?
NFL
Believe it or not, NFL referee Ed Hochuli is on the cover of Sports Illustrated this week.  No, we're not joking.  With all the other sports stories happening right now should SI have chosen to make the NFL referee contract resolution their cover story?
Week 5 picks
Last week we both got back on track, but unfortunately for Deuce he lost one more game than Dog.  If you're keeping score at home that means that we are once again all tied up for the season.  Here are this week's picks: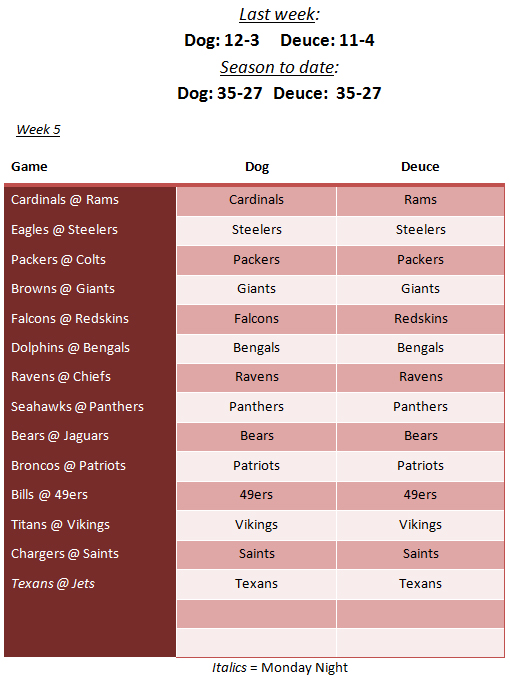 ___________________________
Call or text the D & D Voicemail and Text Line at 801-47-SPORT (801-477-7678) and let us know what you think
Subscribe, rate or review us in iTunes
Check us out on YouTube
Leave us a comment on Facebook
Find us on Google Plus
Follow us on Twitter: @DogAndDeuce
Follow Dog on Twitter: @TheDog801
Send us an email at Feedback@DogAndDeuce.com

Opening and closing song: "Salt Lake City" by The Dwarves.  Music for this episode provided by Mevio's Music Alley.  Check it out at music.mevio.com