Podcast: Play in new window | Download
Subscribe to the show in iTunes.  You can also leave a quick rating or leave a review.
Check out the new D&D Show YouTube page
Show Notes:
College Football
Utah Utes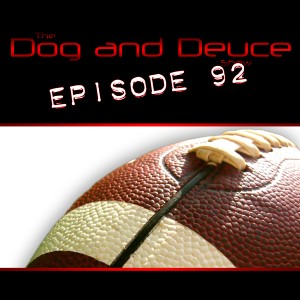 The Utes gave the Oregon State Beavers a competitive game last week but still couldn't get over the hump.  How big a part did the inexperience of Travis Wilson play in the loss?  Would the Utes have won with John Hays?
This week Utah faces the struggling Cal Bears.  This will be Travis Wilson's third start and his first at home.  What do the Utes need to do to get a much needed victory?
BYU Cougars
BYU gave Notre Dame everything they could handle last week but still came up short.  Can this be viewed as a moral victory?  Did Riley Nelson's comments after the game show that he is not a strong leader?
After the Fighting Irish put up huge rushing numbers last week, the Cougars head back on the road to face a Georgia Tech team dominate on the ground.  Can the BYU defense bounce back and shut down the option?  Will Jamal Williams get more carries (and can they win if he doesn't?)?
Utah State Aggies
Utah State is rolling through the WAC schedule.  Last week they put a beating on the New Mexico State Aggies and look to do the same on Saturday against UTSA (University of Texas San Antonio) in San Antonio.  Can the Aggies win out and finally become conference champions?
NBA
A scandal hit this week when Jeff Van Gundy inferred that the NBA blocked ESPN from hiring his brother, Stan Van Gundy as an analyst.  This raises some serious questions about the league's integrity and, more importantly, the independence of ESPN's NBA broadcasts.
After so many questions raised about the league's legitimacy, do you have any doubts about whether the league is "on the level"?
NFL
Week 8 picks
James' season lead is down to 1 game after Allen's 12-1 week 7.  Here are this week's picks: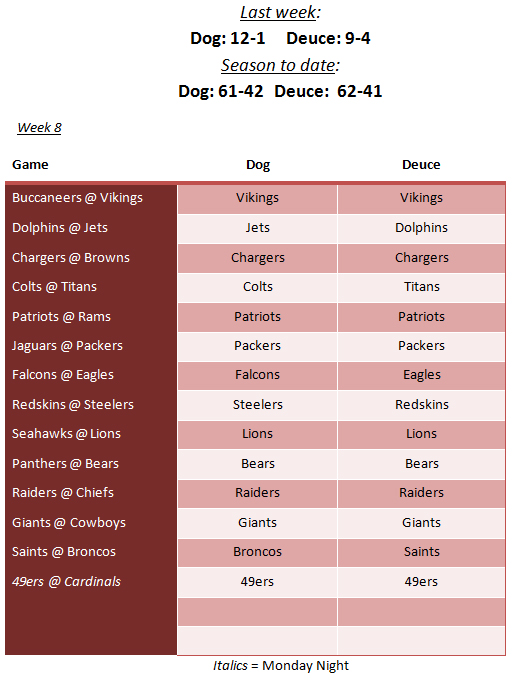 ___________________________
Call or text the D & D Voicemail and Text Line at 801-47-SPORT (801-477-7678) and let us know what you think
Subscribe, rate or review us in iTunes
Check us out on YouTube
Leave us a comment on Facebook
Find us on Google Plus
Follow us on Twitter: @DogAndDeuce
Follow Dog on Twitter: @TheDog801
Send us an email at Feedback@DogAndDeuce.com

Opening and closing song: "Salt Lake City" by The Dwarves.  Music for this episode provided by Mevio's Music Alley.  Check it out at music.mevio.com