Podcast: Play in new window | Download
Subscribe to the show in iTunes.  You can also leave a quick rating or leave a review.
Check out the new D&D Show YouTube page
Show Notes:
College Football
Utah State Aggies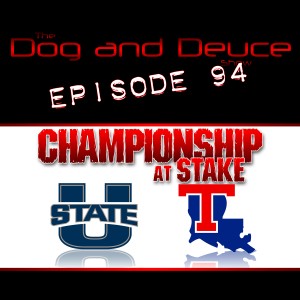 Over the last month the Aggies have been nothing short of dominant.  This week they face a much tougher opponent as they hit the road to face the Louisiana Tech Bulldogs in a game that will most likely determine the WAC champion.  The Bulldogs have been on fire offensively all season long, averaging over 50 points per game.  What does Utah State have to do to slow down one of the best offenses in all of football?  If it becomes a shootout, can they out perform the Bulldogs?
BYU Cougars
After putting a beat down on the Idaho Vandals, the Cougars are set to face a much improved San Jose State team that is still in the hunt for the WAC championship.
BYU had a rough week after a video was released from Halloween night in which safety Joe Sampson and linebacker Zac Stout were in a fight with patrons of a Provo Rancherito's.  How will all this negative attention affect the team as they prepare for this weekend's game?  Bronco Mendenhall publicly stated that he will not even watch the video.  Is this the right move or is it another example of Mendenhall's inability to probably handle crisis situations?
Utah Utes
After winning two in a row, the Utes disappointed fans with a lopsided loss against the Washington Huskies in which the Utah offense struggled immensely.  This week the Utes take on Arizona, a team that was ranked in the top 25 at one point this season.  What can fans expect to see in this must win game?
Washington State Cougars
Mike Leach was fired as Texas Tech's head coach after allegations that he verbally and physically abused players.  He is not even through his first season as Washington State's head coach and similar allegations are being made.  Star wide receiver Marquis Wilson has withdrawn from school, citing many instances of "emotional, mental and physical abuse" by Leach and his staff.  Both the school and the PAC-12 are  investigating.
NBA
Los Angeles Lakers
The Lakers (finally) fired Mike Brown after starting the season 1-4.  The fans wanted Phil Jackson rehired, but the team instead hired Mike D'Antoni.  Was this the right move?  Why would they hire a coach that has not achieved much over one that has so many rings?
Utah Jazz
It may have taken three overtimes, but the Jazz finally won on the road.  After losing to the lowly Hornets and barely getting by the Raptors, can we expect the road struggles to continue all season?
NFL
Week 11 preview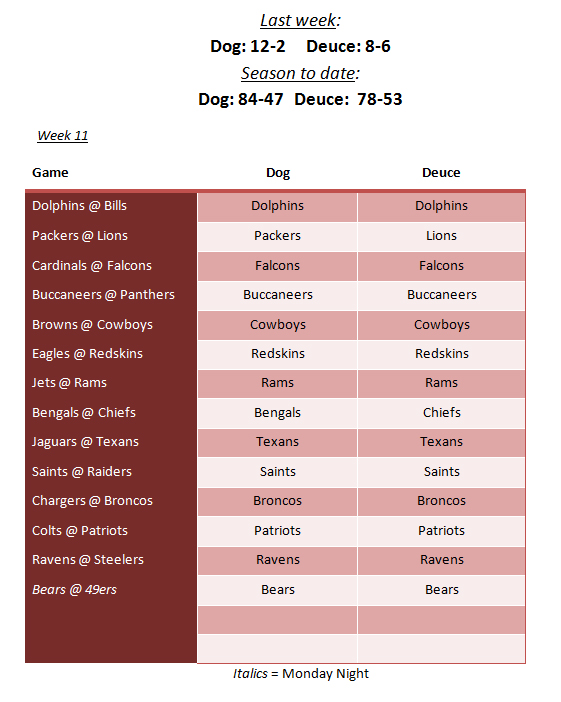 ___________________________
Call or text the D & D Voicemail and Text Line at 801-47-SPORT (801-477-7678) and let us know what you think
Subscribe, rate or review us in iTunes
Check us out on YouTube
Leave us a comment on Facebook
Find us on Google Plus
Follow us on Twitter: @DogAndDeuce
Follow Dog on Twitter: @TheDog801
Send us an email at Feedback@DogAndDeuce.com

Opening and closing song: "Salt Lake City" by The Dwarves.  Music for this episode provided by Mevio's Music Alley.  Check it out at music.mevio.com