Podcast: Play in new window | Download
Subscribe to the show in iTunes.  You can also leave a quick rating or leave a review.
Check out the new D&D Show YouTube page
Show Notes:
College Basketball
Rick Majerus
Rick Majerus, former Utah and St. Louis coach, died on Saturday.  We reminisce about what he meant to the University of Utah and college basketball as a whole.
College Football
BYU Cougars / Colorado Buffaloes
Colorado has a coaching vacancy and rumored to be at the top of the list of potential choices is BYU head coach Bronco Mendenhall.  Should the Buffaloes go after Bronco?  If offered the position should he take it?  If he does what will it mean for the Cougars?
NFL
Kansas City Chiefs
Tragedy struck the Chiefs on Saturday when linebacker Jovan Belcher killed his girlfriend (the mother of his daughter) and then drove to to Chiefs' practice facility and killed himself in front of, among others, head coach Romeo Crennel and general manager Scott Pioli.  The brings the issue of domestic violence among professional athletes to the forefront.  Do the leagues have a responsibility to reduce the staggering numbers of violence committed by their players?
Season recap
The 2012 season is coming to a close.  We discuss the biggest surprise stories of the year.
Week 14 picks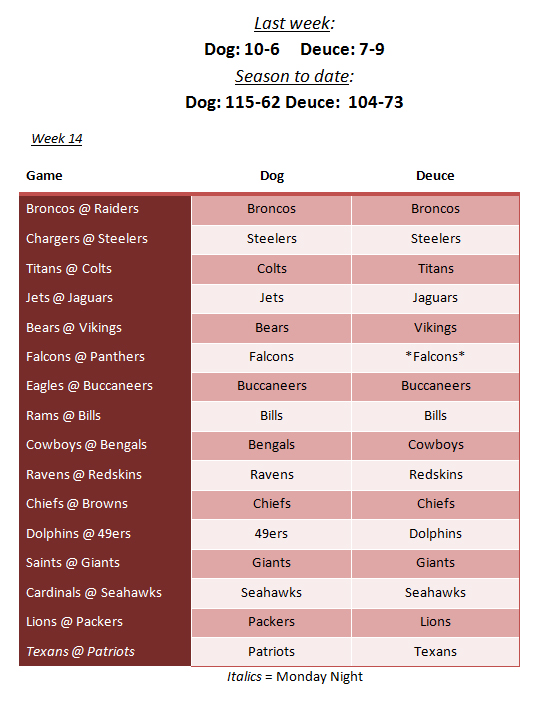 ___________________________
Call or text the D & D Voicemail and Text Line at 801-47-SPORT (801-477-7678) and let us know what you think
Subscribe, rate or review us in iTunes
Check us out on YouTube
Leave us a comment on Facebook
Find us on Google Plus
Follow us on Twitter: @DogAndDeuce
Follow Dog on Twitter: @TheDog801
Send us an email at Feedback@DogAndDeuce.com

Opening and closing song: "Salt Lake City" by The Dwarves.  Music for this episode provided by Mevio's Music Alley.  Check it out at music.mevio.com