Podcast: Play in new window | Download
Subscribe to the show in iTunes.  You can also leave a quick rating or leave a review.
Check out the new D&D Show YouTube page
Show Notes: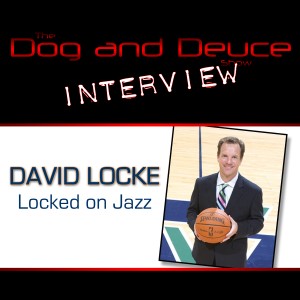 David Locke is very familiar to sports fans in the Salt Lake market.  Prior to doing the radio play-by-play for the Utah Jazz, he hosted a hugely popular sports radio talk show called Locked on Sports.  Now that he is calling the games, he spend most of his time covering the Jazz and NBA on his blog and various podcasts.  He puts a lot of effort into connecting with fans via social media.  Check out his links below.
___________________________
Call or text the D & D Voicemail and Text Line at 801-47-SPORT (801-477-7678) and let us know what you think
Subscribe, rate or review us in iTunes
Check us out on YouTube
Leave us a comment on Facebook
Find us on Google Plus
Follow us on Twitter: @DogAndDeuce
Follow Dog on Twitter: @TheDog801
Send us an email at Feedback@DogAndDeuce.com

Opening and closing song: "Salt Lake City" by The Dwarves.  Music for this episode provided by Mevio's Music Alley.  Check it out at music.mevio.com