Podcast: Play in new window | Download
Subscribe to the show in iTunes.  You can also leave a quick rating or leave a review.
Check out the new D&D Show YouTube page
**The next show is our big 100th episode!**  We would love to hear any and all feedback you may have about the show, the sports world, or anything else that might be on your mind!  This is a big milestone for us so we are really pushing to hear from the listeners.  We will read all comments and feedback on air so hit us up!  For all the ways to get in touch with us, head over to the 'Contact Us' page or check out the bottom of this post.
Show Notes:
College Football
Utah State Aggies
Utah State beat Toledo 41-15 in the Famous Idaho Potato Bowl.  Despite the lopsided score, it was a close game going into the last half of the 4th quarter.  After putting the exclamation point on a great season it is time to look ahead.  What will the Aggies do next year in the Mountain West Conference?  Will they get more national respect?
BYU Cougars
To hear our full Poinsettia Bowl preview, check out Dog and Deuce #98.
Holy War – BYU / Utah Rivalry
With the future of the Holy War in question, most fans dread the thought that the rivalry may end altogether.  For Ute fans, is being in the PAC 12 worth it or would they rather still be in the Mountain West but still playing the Cougars every year?  The college football landscape has changed drastically and it looks like century old rivalries are being sacrificed for big money.
Bowl Previews
We make predictions for each of the remaining bowl games.
NFL
Week 16 preview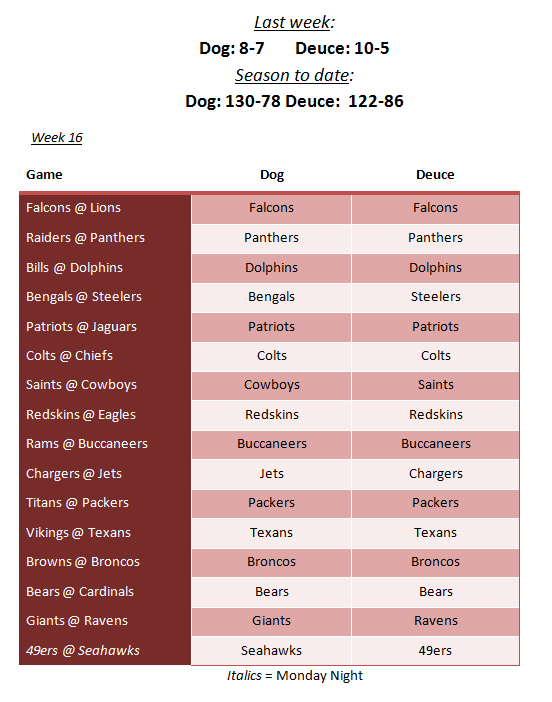 NBA
Utah Jazz
After getting back to back wins against the Lakers and Spurs the Jazz were embarrassed by the Suns and Grizzlies.  As they gear up for their annual Christmas road trip can they find a way to get some confidence?
___________________________
Call or text the D & D Voicemail and Text Line at 801-47-SPORT (801-477-7678) and let us know what you think
Subscribe, rate or review us in iTunes
Check us out on YouTube
Leave us a comment on Facebook
Find us on Google Plus
Follow us on Twitter: @DogAndDeuce
Follow Dog on Twitter: @TheDog801
Send us an email at Feedback@DogAndDeuce.com

Opening and closing song: "Salt Lake City" by The Dwarves.  Music for this episode provided by Mevio's Music Alley.  Check it out at music.mevio.com