Podcast: Play in new window | Download
Subscribe to the show in iTunes.  You can also leave a quick rating or leave a review.
Check out the new D&D Show YouTube page
Show Notes: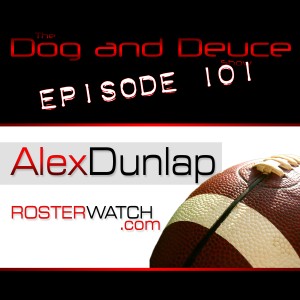 Our guest for Episode #101 is Alex Dunlap.  He is the co-founder of RosterWatch.com and write for the Austin Chronicle and the Bleacher Report.  He is also a member of the Pro Football Writers of America.
NFL
Superbowl XLVII
For the first time ever, two brothers are opposing head coaches in the Superbowl.  Alex Dunlap helps us preview the game and explain how both teams got here.
Are the Ravens a team of destiny?
Will Colin Kaepernick be consistent elite quarterback throughout his career?
College Football
Utah State Aggies / Wisconsin Badgers
Thanks to listener Ryan Mortensen for Tweeting us!  Ryan wanted to get our thoughts on Gary Anderson's departure from the Aggies.  Can Anderson be blamed for taking the Wisconsin job?  Did he leave the Utah State program in a state that will allow for continued success under Matt Wells?
Utah Utes / BYU Cougars
Aaron Roderick caused quite a commotion when he very publicly announced that he would be leaving Utah to coach at BYU.  A day later he made another announcement: he would be staying at Utah.  While there are certainly factors of this confusing scenario that are being kept quiet (like a possible raise in salary), this whole deal left local college football fans scratching their heads.  What are Ute and Cougar fans supposed to think about this?  Is Roderick good enough to warrant a "bidding" war?  Should Ute fans, as well as the team and coaching staff, even want him back considering this is the second time he has retracted a proclaimed departure?
Manti Te'o
The Manti Te'o "girlfriend" story captured the public like few other sports stories ever have.  We break down what happened and try to deduce who is at fault.
Lance Armstrong
Lance Armstrong has suffered perhaps the worst fall from grace in sports history.  He recently went on the Oprah Winfrey Show and admitted to using performance enhancing drugs.  What does this say about him and the sport of cycling as a whole?
___________________________
Call or text the D & D Voicemail and Text Line at 801-47-SPORT (801-477-7678) and let us know what you think
Subscribe, rate or review us in iTunes
Check us out on YouTube
Leave us a comment on Facebook
Find us on Google Plus
Follow us on Twitter: @DogAndDeuce
Follow Dog on Twitter: @TheDog801
Send us an email at Feedback@DogAndDeuce.com

Opening and closing song: "Salt Lake City" by The Dwarves.  Music for this episode provided by Mevio's Music Alley.  Check it out at music.mevio.com