Podcast: Play in new window | Download
Subscribe to the show in iTunes.  You can also leave a quick rating or leave a review.
Check out the new D&D Show YouTube page
Show Notes:
NFL
Super Bowl XLVII
We break down the big game happening on Sunday.  Can the Ravens special team avoid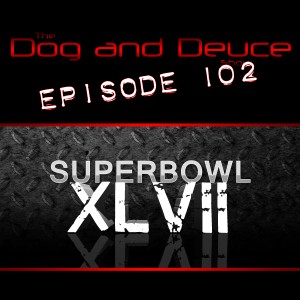 making critical mistakes?  Can Kaepernick lead a drive if the 49ers are down?  Who is going to get the victory?
NBA
Utah Jazz
The Jazz were looking good in the last few weeks of January.  Gordon Hayward was becoming a leader and was taking control in the clutch.  But then Hayward went down and Utah suffered its worst loss in franchise history to the Rockets, and to make matters worse it was in Energy Solutions Arena.
Where do the Jazz go from here?  Do they need to move Al Jefferson?  Can Paul Milsap get back the intensity and emotion that made him so good in past years?  Is it better to shoot for the playoffs or plan for the future?
Feedback
Aggie fan Ryan Mortensen emailed us to give us his thoughts on Gary Anderson taking the Wisconsin job.  He seems to sum up the collective feeling of the Utah State fan base quite nicely.
Matt Quinney (from Academically Ineligible) and Torrey Ellis both disagree with Allen's believe that Bronco Mendenhall harbors a quiet but deep animosity and resentment toward the University of Utah.  They both feel that Bronco is indifferent, which is a negative thing.
___________________________
Call or text the D & D Voicemail and Text Line at 801-47-SPORT (801-477-7678) and let us know what you think
Subscribe, rate or review us in iTunes
Check us out on YouTube
Leave us a comment on Facebook
Find us on Google Plus
Follow us on Twitter: @DogAndDeuce
Follow Dog on Twitter: @TheDog801
Send us an email at Feedback@DogAndDeuce.com

Opening and closing song: "Salt Lake City" by The Dwarves.  Music for this episode provided by Mevio's Music Alley.  Check it out at music.mevio.com