Podcast: Play in new window | Download
Subscribe to the show in iTunes.  You can also leave a quick rating or leave a review.
Check out the new D&D Show YouTube page
Get tickets to the Reunion Tour with Adam Carolla and Dr. Drew by clicking here.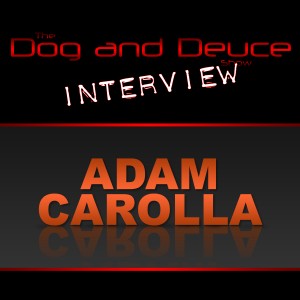 Adam Carolla is a comedy legend.  For years he could be heard on Loveline, the insanely popular syndicated radio show, and seen on The Man Show alongside his good friend Jimmy Kimmel.  In addition to his work in television and radio, he is the author of two bestselling books, In 50 Years We'll All Be Chicks and the more recent Not Taco Bell Material.
Long before making it in show business, Carolla played high school football and was later a boxing instructor.  As a huge sports fan, he joinedThe Dog and Deuce Show to talk about interviewing Mike Tyson, the state of heavy weight boxing, the NFL's new tackling rules, the thrill of playing football, and much more.
Show Notes:
Check out The Adam Carolla Show on Adam's website or on iTunes and Stitcher.
All the shows on Carolla Digital can be found here.
Find out more about Mangria.
Download Adam's interview with Mike Tyson for free.
Adam and Dr. Drew will be coming to Salt Lake City as part of their Reunion Tour.  You can get tickets here.
___________________________
Call or text the D & D Voicemail and Text Line at 801-47-SPORT (801-477-7678) and let us know what you think
Subscribe, rate or review us in iTunes
Check us out on YouTube
Leave us a comment on Facebook
Find us on Google Plus
Follow us on Twitter: @DogAndDeuce
Follow Dog on Twitter: @TheDog801
Send us an email at Feedback@DogAndDeuce.com

Opening and closing song: "Salt Lake City" by The Dwarves.  Music for this episode provided by Mevio's Music Alley.  Check it out at music.mevio.com