Podcast: Play in new window | Download
Subscribe to the show in iTunes.  You can also leave a quick rating or leave a review.
Check out the new D&D Show YouTube page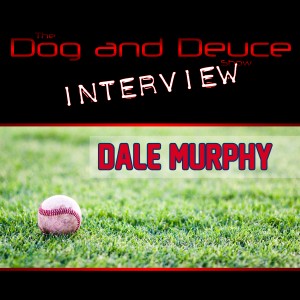 Dale Murphy is nothing short of a baseball legend.  In addition to winning two consecutive National League MVPs, he has received numerous on and off the field awards for his superior play and upstanding character.  Murphy was kind enough to join us to discuss his career, his chances at the hall of fame, his I Won't Cheat Foundation and much more.
Show Notes:
___________________________
Call or text the D & D Voicemail and Text Line at 801-47-SPORT (801-477-7678) and let us know what you think
Subscribe, rate or review us in iTunes
Check us out on YouTube
Leave us a comment on Facebook
Find us on Google Plus
Follow us on Twitter: @DogAndDeuce
Follow Dog on Twitter: @TheDog801
Send us an email at Feedback@DogAndDeuce.com

Opening and closing song: "Salt Lake City" by The Dwarves.  Music for this episode provided by Mevio's Music Alley.  Check it out at music.mevio.com