Podcast: Play in new window | Download
Subscribe to the show in iTunes.  You can also leave a quick rating or leave a review.

Check out the new D&D Show YouTube page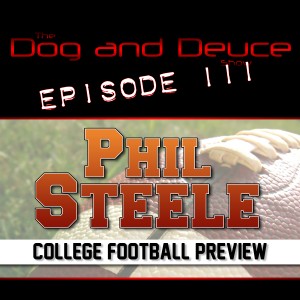 Thanks to Phil Steele for joining us to talk all things college football! Make sure to pick up this year's edition of Phil Steel's 2013 College Football Preview. Follow Phil on Twitter and check out his website.
Show Notes:
College Football
BYU Cougars
Bronco Mendenhall upset both fans and players by announcing that in place of players' last names, the back of the Cougar jerseys would feature the words 'Spirit', 'Honor', or 'Tradition'. Does a decision like this indicate a bigger pattern of Mendenhall being out of touch? Could it translate to losses on the field?
NFL
Philadelphia Eagles
Riley Cooper unleashed a tirade filled with racial slurs recently. This story speaks for itself but almost as troubling was Cooper's apology, or lack thereof. What action should the Eagles take in this situation? Is Cooper really sorry for his actions?
___________________________
Call or text the D & D Voicemail and Text Line at 801-47-SPORT (801-477-7678) and let us know what you think
Subscribe, rate or review us in iTunes
Check us out on YouTube
Leave us a comment on Facebook
Find us on Google Plus
Follow us on Twitter: @DogAndDeuce
Follow Dog on Twitter: @TheDog801
Send us an email at Feedback@DogAndDeuce.com

Opening and closing song: "Salt Lake City" by The Dwarves.  Music for this episode provided by Mevio's Music Alley.  Check it out at music.mevio.com