Podcast: Play in new window | Download
Subscribe to the show in iTunes.  You can also leave a quick rating or leave a review.

Check out the D&D Show YouTube page

Show Notes:
NBA
NBA Playoffs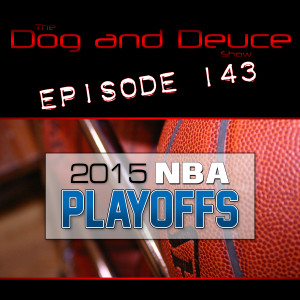 The opening rounds of the NBA Playoffs wrap up this weekend and we make our picks. Which is the bigger surprise, Atlanta struggling with Brooklyn, the Clippers falling behind to the Spurs, or Washington sweeping Toronto?
With Kevin Love going down, can LeBron James turn the Cavaliers into a (nearly) one-man-team?
Does Golden State have what it takes to make is to the NBA Finals?
Eastern Conference
Why is the NBA's Eastern Conference so bad year after year? Why hasn't the gab between the East and the West evened out?
College Football
Utah Utes – spring football
The Utes held their annual Red & White game and we learned, well…nothing. But we poke fun at the new "recruiting" video the team released. Watch it below.

Ute Fast / Ute Furious from Utah Football on Vimeo.
NHL
Stanley Cup Playoffs
As usual the NHL Playoffs are overshadowed by basketball but that hasn't stopped James' excitement. Is the hockey postseason better than the NBA and NFL playoffs?
Media
Britt McHenry / ESPN
ESPN suspended Britt McHenry for berating a tow company employee on video. This is just the latest example of the network giving a mere slap on the wrist for (what most believe) is deplorable behavior. This naturally led us to ask: how exactly does a person get fired from ESPN?
You can watch the video below (keep in mind there is some explicit language).

___________________________
Call or text the D & D Voicemail and Text Line at 801-47-SPORT (801-477-7678) and let us know what you think
Subscribe, rate or review us in iTunes
Check us out on YouTube
Leave us a comment on Facebook
Find us on Google Plus
Follow us on Twitter: @DogAndDeuce
Follow Dog on Twitter: @AMartindaleFilm
Send us an email at DogAndDeuce@gmail.com