Podcast: Play in new window | Download
Subscribe to the show in iTunes.  You can also leave a quick rating or leave a review.

Check out the D&D Show YouTube page
Show Notes:
We'd like to thank @AI_Steve and @AggieUp (from UStateAggies.com) for contributing to this episode!
Phil Steele
College Football Preview 2015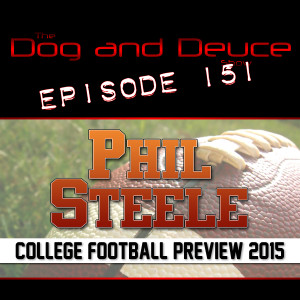 Returning for his 3rd consecutive year is legendary college football expert Phil Steele. Phil explains what we can expect to see from the Utes, Cougars & Aggies this season. He also makes a surprising prediction about Utah's starting quarterback.
Phil Steele links:
Dog and Deuce
This episode marks 5 years since we uploaded our first show. This seemed like a good time to thank a few of the people who have supported the show over the years:
These are just a few of the people who have supported and helped us over the years and we apologize if we missed anyone. We also want to thank every single person who has ever listened, watched, subscribed or reviewed the show. Thank you from the very bottom of our hearts.
___________________________
Call or text the D & D Voicemail and Text Line at 801-47-SPORT (801-477-7678) and let us know what you think
Subscribe, rate or review us in iTunes
Check us out on YouTube
Leave us a comment on Facebook
Find us on Google Plus
Follow us on Twitter: @DogAndDeuce
Follow Dog on Twitter: @AMartindaleFilm
Send us an email at DogAndDeuce@gmail.com