Podcast: Play in new window | Download

Subscribe to the show in iTunes.  You can also leave a quick rating or leave a review.


Give us a like on Facebook.

Check out the D&D Show YouTube page
Show Notes:
NBA
Utah Jazz
This NBA season is young but the Utah Jazz have already had multiple ups and downs. After beating Memphis, Atlanta and a comeback victory against Toronto, its safe to say the Jazz are starting to find their groove. The undisputed – if not surprising – key to this early success has been Derrick Favors. But can Utah keep winning without better output from Gordon Hayward? Can Trey Burke keep up his stellar play off the bench?
College Basketball
Its hard to believe but the college basketball season is underway. How excited are you to see the Utes, Cougars and Aggies hit the hardwood? Is it easy to overlook hoops with so much football still left to play?
College Football
BYU Cougars
With all the turmoil coming out of the University of Missouri's Columbia campus last week we knew BYU's trip to Kansas City would be an emotional and daunting. The Cougars fell short against the Tigers but there was no quit in them. How much stock should we put in moral victories like this? Can Bronco Mendenhall's squad avoid looking past Fresno State this week?
Utah State Aggies
There is no doubt that Matt Wells is disappointed with how his squad has performed the last few weeks. After blowing out Boise State a month ago the Aggies have struggled mightily and now are in danger of missing a bowl game. The latest loss was to conference rivals – and the bane of every Mountain West team's existence – Air Force. Defending the Falcons' triple option is never easy, but you make your job that much tougher when they torch you through the air as well. With two chances left to get to six wins and become bowl eligible, time is running out for the Utah State. Can they beat the always difficult Nevada in Logan on Saturday?
Utah Utes
It was a rough week for all three local teams but no loss was more frustrating and costly than Utah coming up short in double overtime to Arizona. Instead of capitalizing on losses by three top-ten teams and inching that much closer to the college football playoff, the Utes are now fighting to stay in the hunt for the Pac-12 South. As if that weren't bad enough, they will have to face the rest of the season without Devontae Booker. With their only real offensive threat sidelined does Utah even stand a chance against UCLA? Is the dream season going down in flames?
NFL
Week 11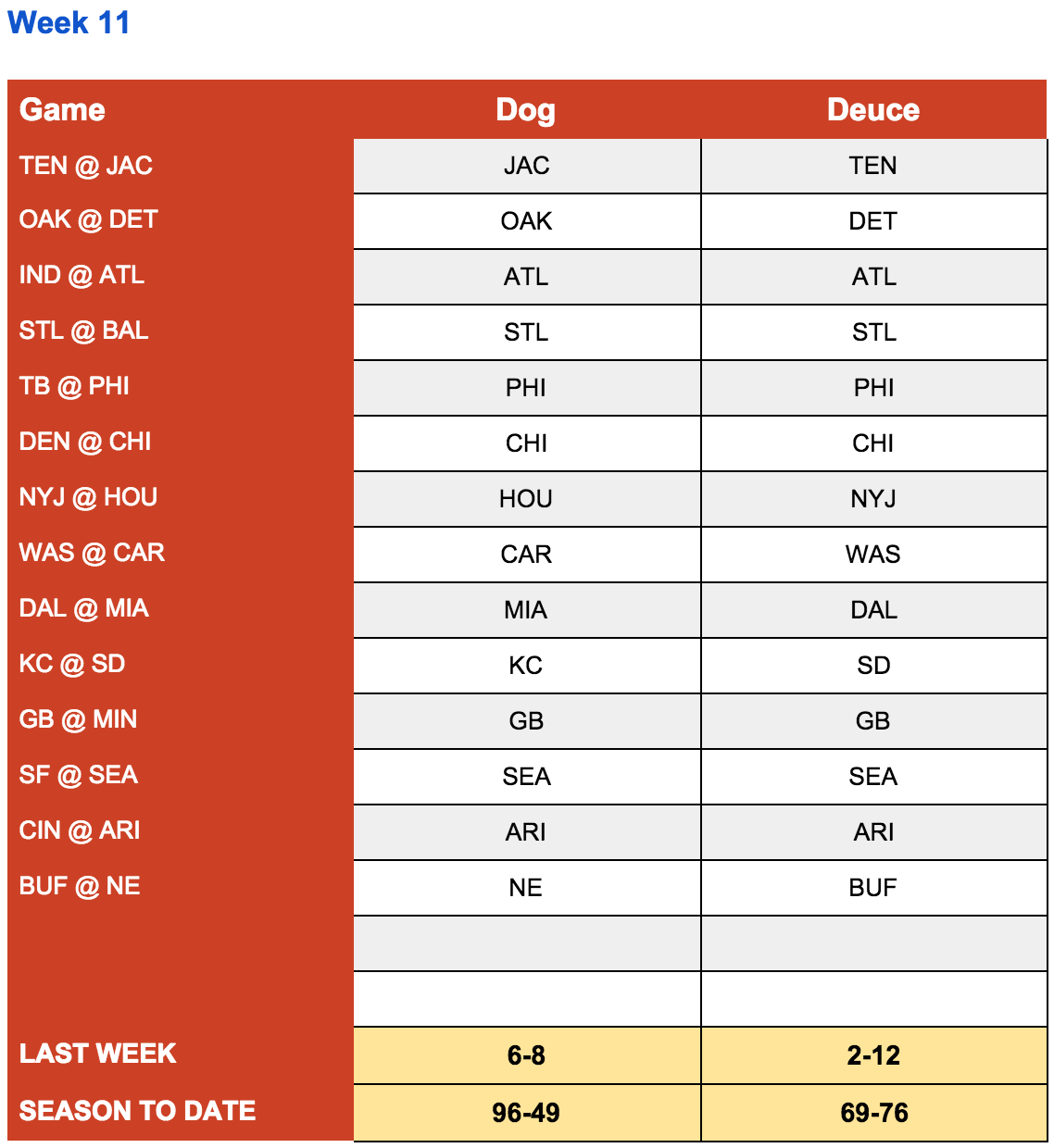 ___________________________
Call or text the D & D Voicemail and Text Line at 801-47-SPORT (801-477-7678) and let us know what you think
Subscribe, rate or review us in iTunes
Check us out on YouTube
Leave us a comment on Facebook
Find us on Google Plus
Follow us on Twitter: @DogAndDeuce
Follow Dog on Twitter: @AMartindaleFilm
Send us an email at DogAndDeuce@gmail.com