Podcast: Play in new window | Download

Subscribe to the show in iTunes.  You can also leave a quick rating or leave a review.


Give us a like on Facebook.

Check out the D&D Show YouTube page
Show Notes:
College Football
Utah / BYU / Utah State
The college football regular season has come to an end and the Utes, Cougars and Aggies are all in very different positions. BYU ended with a huge win over semi-rival Utah State and Utah barely limped past a terrible Colorado squad. What does this mean going forward into the bowl season? After so much history why does the BYU / Utah State rivalry pale in comparison to the Holy War?
College Basketball
Holy War
Utah and BYU are no longer in the same conference. They only play each other once a year and the outcome has no conference implications. But the emotions and vitriol are has strong as ever in the fans and players. This was on full display as BYU freshman Nick Emery threw a cheap shot at Utah guard Brandon Taylor on Wednesday. Was this just a display of frustration from a young kid or a sign of things to come? How much does this add to BYU's national reputation as bullies? Should Tom Holmoe step in and force Dave Rose and Bronco Mendenhall to dish out steep punishments?

NBA
Utah Jazz / Rudy Gobert
After playing the Golden State Warriors closer than any other team this season, the Jazz looked to be on the rise. But now they are facing between ten and thirty games without Rudy Gobert who is sidelined with a strained MCL. What does this mean for Utah's playoff push? Can they stay competitive with out their leading defensive player?
Kobe Bryant
For almost two decades Kobe Bryant had been dominating the NBA. Possibly the most polarizing player of all time, people either love or hate him. So when he decided to announce his impending retirement, he did it in true Kobe fashion…he wrote a poem:
Dear Basketball,

From the moment
I started rolling my dad's tube socks
And shooting imaginary
Game-winning shots
In the Great Western Forum
I knew one thing was real:

I fell in love with you.

A love so deep I gave you my all —
From my mind & body
To my spirit & soul.

As a six-year-old boy
Deeply in love with you
I never saw the end of the tunnel.
I only saw myself
Running out of one.

And so I ran.
I ran up and down every court
After every loose ball for you.
You asked for my hustle
I gave you my heart
Because it came with so much more.

I played through the sweat and hurt
Not because challenge called me
But because YOU called me.
I did everything for YOU
Because that's what you do
When someone makes you feel as
Alive as you've made me feel.

You gave a six-year-old boy his Laker dream
And I'll always love you for it.
But I can't love you obsessively for much longer.
This season is all I have left to give.
My heart can take the pounding
My mind can handle the grind
But my body knows it's time to say goodbye.

And that's OK.
I'm ready to let you go.
I want you to know now
So we both can savor every moment we have left together.
The good and the bad.
We have given each other
All that we have.

And we both know, no matter what I do next
I'll always be that kid
With the rolled up socks
Garbage can in the corner
:05 seconds on the clock
Ball in my hands.
5 … 4 … 3 … 2 … 1

Love you always,
Kobe
Is this a ridiculous attempt at prose or a sentimental lament? After years of showboating and ball-chucking, should Kobe be praised for all his championships or criticized for his questionable attitude?
NFL
Week 13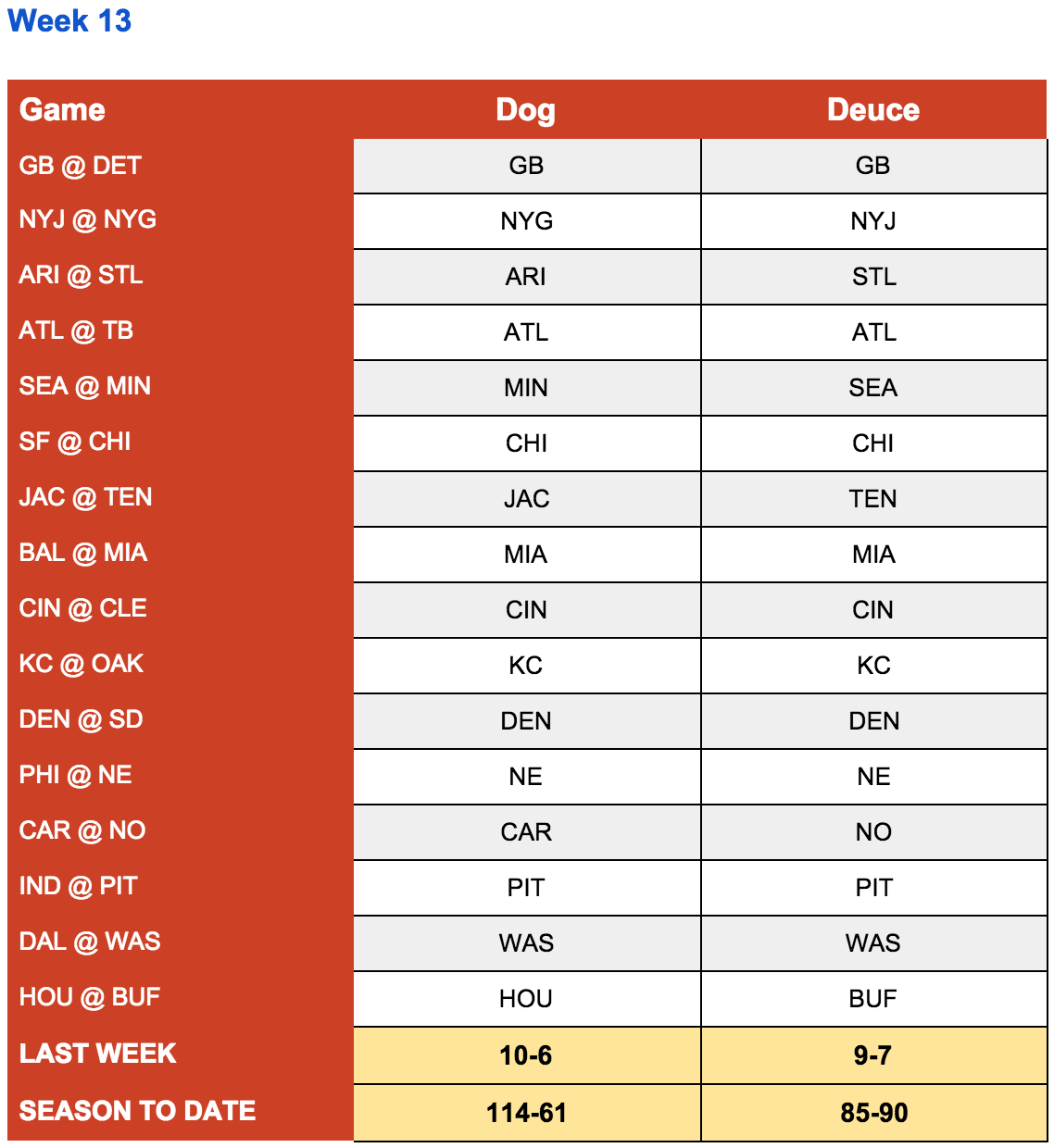 ___________________________
Call or text the D & D Voicemail and Text Line at 801-47-SPORT (801-477-7678) and let us know what you think
Subscribe, rate or review us in iTunes
Check us out on YouTube
Leave us a comment on Facebook
Find us on Google Plus
Follow us on Twitter: @DogAndDeuce
Follow Dog on Twitter: @AMartindaleFilm
Send us an email at DogAndDeuce@gmail.com