Podcast: Play in new window | Download

Subscribe to the show in iTunes.  You can also leave a quick rating or leave a review.


Listen or subscribe on Google Play Music.

Hear the show on TuneIn Radio.

Watch every episode at SouthernUtahLive.com.
We are a proud member of the Podcast Collective! Its an incredible podcast network that includes such shows as On the Block, No Hope For Humanity and The Coffin Joe Cast. You can find those and tons of other great shows at PodcastCollective.com.
Show Notes:
NBA
Utah Jazz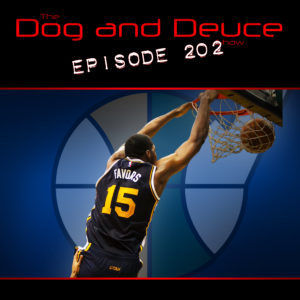 Losing key guys to injuries hasn't slowed down the surging Utah Jazz. They have won nine of their last eleven games despite only having George Hill, Gordon Hayward, Derrick Favors and Rodney Hood on the court at the same time for a meager 12 minutes all season.
With Favors having trouble getting back on the court we wonder if he might be the new Carlos Boozer.
College Football
Utah Utes
We look back at Utah's epic late season collapse. Are fans overreacting? Are their concerns legitimate? Should we worry about a third consecutive meltdown next season?
BYU Cougars
BYU will cap off its surprisingly successful season in the Poinsettia Bowl next week. They will face former Mountain West rival Wyoming. Do the Cowboys have a chance to upset the Cougars? Who has more to gain?
Wake Forest Demon Deacons
It was reported that former Wake Forest player, assistant coach and current broadcaster Tommy Elrod shared or attempted to sell detailed game plans to many Demon Deacons opponents. What would cause someone that deeply involved in a program to become a traitor?
---
Call or text the D & D Voicemail and Text Line at 801-47-SPORT (801-477-7678) and let us know what you think
Subscribe, rate or review us in iTunes
Listen or subscribe on Google Play Music
Check us out on YouTube
Leave us a comment on Facebook
Find us on Google Plus
Follow us on Twitter: @DogAndDeuce
Follow Dog on Twitter: @AMartindaleFilm
Send us an email at DogAndDeuce@gmail.com
Find more great podcasts over at The Podcast Collective