Podcast: Play in new window | Download

Subscribe to the show in iTunes.  You can also leave a quick rating or leave a review.


Listen or subscribe on Google Play Music.

Hear the show on TuneIn Radio.

Watch every episode at SouthernUtahLive.com.
We are a proud member of the Podcast Collective! Its an incredible podcast network that includes such shows as the Bad Parenting Podcast, I Am Salt Lake and The Rad Dad Radio Hour. You can find those and tons of other great shows at PodcastCollective.com.
Show Notes:
NBA
Utah Jazz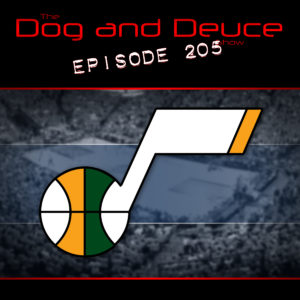 For the sixth time in a row LeBron James left Salt Lake City with a loss. After beating the defending champs and having an empty injury report for the first time all season, is it safe for Jazz fans to get excited?
Prior to the Cleveland game the Jazz sent Dante Exum, Alec Burks and Raul Neto to the D-League. What does this mean for each of these guys and for the future of the team?
College Football
2017 College Football National Championship
After a very weak playoff fans were treated with an epic National Championship game. Clemson came from behind to beat Alabama (and one of the best defenses in college football history). But where does this one rank among the all-time greatest championship games?
NFL
2017 NFL Playoffs
We look back at last week's boring Wild Card weekend. Will the divisional playoffs offer more excitement?
---
Call or text the D & D Voicemail and Text Line at 801-47-SPORT (801-477-7678) and let us know what you think
Subscribe, rate or review us in iTunes
Listen or subscribe on Google Play Music
Check us out on YouTube
Leave us a comment on Facebook
Find us on Google Plus
Follow us on Twitter: @DogAndDeuce
Follow Dog on Twitter: @AMartindaleFilm
Send us an email at DogAndDeuce@gmail.com
Find more great podcasts over at The Podcast Collective