Podcast: Play in new window | Download

Subscribe to the show in iTunes.  You can also leave a quick rating or leave a review.


Listen or subscribe on Google Play Music.

Hear the show on TuneIn Radio.

Watch every episode at SouthernUtahLive.com.
We are a proud member of the Podcast Collective! Head over to PodcastCollective.com to find tons of other great podcasts!
Show Notes:
NBA
Utah Jazz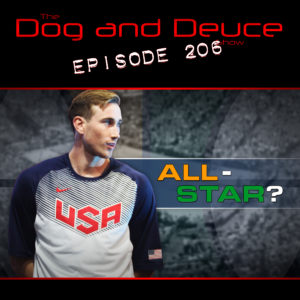 With a nearly healthy roster, the Jazz have won four straight. Will James finally change his tune and start getting excited about this team?
The All-Star voting is officially over but the results won't be announced for a few weeks. Do Gordon Hayward and Rudy Gobert deserve to be on the team? If so will they make the cut?
NFL
2017 NFL Playoffs – NFC & AFC Championships
Atlanta and New England cruised to relatively easy wins on Saturday but the Packers and Steelers' victories were hard fought. We preview this weekends championship games and predict who we think will be playing in the Superbowl!
Pittsburgh Steelers
Antonio Brown decided it would be a good idea to broadcast on Facebook Live during Mike Tomlin's post game speech on Sunday. What does this mean for the Steelers? Will this cause a rift in the locker room? Or will could this be a unifying event? How will it effect their AFC Championship match up against the Patriots?
---
Call or text the D & D Voicemail and Text Line at 801-47-SPORT (801-477-7678) and let us know what you think
Subscribe, rate or review us in iTunes
Listen or subscribe on Google Play Music
Check us out on YouTube
Leave us a comment on Facebook
Find us on Google Plus
Follow us on Twitter: @DogAndDeuce
Follow Dog on Twitter: @AMartindaleFilm
Send us an email at DogAndDeuce@gmail.com
Find more great podcasts over at The Podcast Collective