Podcast: Play in new window | Download

Subscribe to the show in iTunes.  You can also leave a quick rating or leave a review.


Listen or subscribe on Google Play Music.

Hear the show on TuneIn Radio.

Watch every episode at SouthernUtahLive.com.
We are a proud member of the Podcast Collective! Head over to PodcastCollective.com to find tons of other great podcasts!
Show Notes:
NBA
All-Star Weekend 2017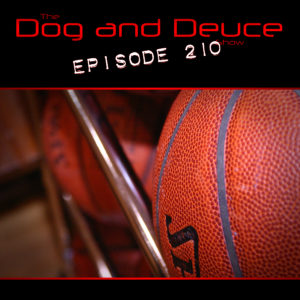 The NBA's All-Star Weekend sucked…bad. What can be done to fix it?
Utah Jazz
The Jazz didn't make a move before the trade deadline but we didn't know that when we recorded this episode. We talk about what it would mean if they brought Deron Williams back and how fans might react to public enemy number one returning to Utah.
Los Angeles Lakers
The Lakers fired longtime GM Mitch Kupchak and hired Magic Johnson as their President of Basketball Operations. Was this a good move? Does Magic have the skill set needed to bring the Lakers back to glory.
Kyrie Irving
Kyrie Irving thinks the Earth is flat. For real.
Jimmer Fredette
China, like Provo before it, has fallen in love with Jimmer Fredette. He is putting up huge numbers in the Chinese Basketball Association. Should he make another push for the NBA or remain a super-star overseas?
---
Call or text the D & D Voicemail and Text Line at 801-47-SPORT (801-477-7678) and let us know what you think
Subscribe, rate or review us in iTunes
Listen or subscribe on Google Play Music
Check us out on YouTube
Leave us a comment on Facebook
Find us on Google Plus
Follow us on Twitter: @DogAndDeuce
Follow Dog on Twitter: @AMartindaleFilm
Send us an email at DogAndDeuce@gmail.com
Find more great podcasts over at The Podcast Collective