Podcast: Play in new window | Download

Subscribe to the show in iTunes.  You can also leave a quick rating or leave a review.


Listen or subscribe on Google Play Music.

Hear the show on TuneIn Radio.

Watch every episode at SouthernUtahLive.com.
Allen has a new podcast!
If you are a music nerd we think you'll enjoy Talk Music To Me. It features independent music, interviews with artists and lots of reviews. Check it out over at talkmusictomeslc.com (or on iTunes, Google Play Music and Stitcher Radio).
We are a proud member of the Podcast Collective! Head over to PodcastCollective.com to find tons of other great podcasts!
Show Notes:
NBA
Utah Jazz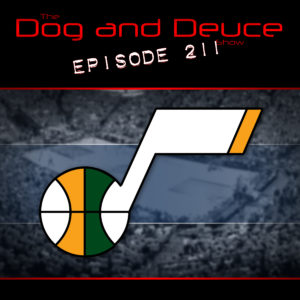 After limping into the All-Star break the Jazz came back looking fresh and renewed. But after knocking off Milwaukee and Washington in impressive fashion they lost two in a row – including a blow out loss to the Timberwolves at home. Is there a way to make sense of Utah's streaky tendencies? Can they hope to maintain any consistency in the playoffs?
After watching the trade deadline come and go without making a move, Dennis Lindsey went into contract negotiations with George Hill and Derrick Favors. No extension was signed in either case. How different could this team look next season? Can they possibly re-sign Hayward, Hill and Favors?
Cleveland Cavaliers
After publicly complaining about the lack of playmakers on his team, LeBron James got what he wanted…or did he? The Cavaliers signed Deron Williams and received a verbal commitment from Andrew Bogut. Can this duo give them an edge against the Warriors? Could Deron Williams be heading back to the Jazz next season?
Golden State Warriors
Even when they play horribly the Warriors win. But how will that change now that Kevin Durant is out with a hyperextended knee?
NFL
Los Angeles Rams
Former Utah quarterback Travis Wilson recently received an invite to the Rams' training camp. But he'll be playing tight end. Does Wilson have the skills and size to play this new position?
Minnesota Vikings
The Vikings chose not to exercise their option on Adrian Peterson's contract. Will they be able to re-sign him later in the offseason? Is there a chance he could sign with Green Bay?
2017 Academy Awards
There are a lot of conspiracy theories regarding the recent Best Picture debacle at the Oscars. Could it really have been an orchestrated event?
---
Call or text the D & D Voicemail and Text Line at 801-47-SPORT (801-477-7678) and let us know what you think
Subscribe, rate or review us in iTunes
Listen or subscribe on Google Play Music
Check us out on YouTube
Leave us a comment on Facebook
Find us on Google Plus
Follow us on Twitter: @DogAndDeuce
Follow Dog on Twitter: @AMartindaleFilm
Send us an email at DogAndDeuce@gmail.com
Find more great podcasts over at The Podcast Collective