Podcast: Play in new window | Download

Subscribe to the show in iTunes.  You can also leave a quick rating or leave a review.


Listen or subscribe on Google Play Music.

Hear the show on TuneIn Radio.

Watch every episode at SouthernUtahLive.com.
Allen has a new podcast!
If you are a music nerd we think you'll enjoy Talk Music To Me. It features independent music, interviews with artists and lots of reviews. Check it out over at talkmusictomeslc.com (or on iTunes, Google Play Music and Stitcher Radio).
Dog and Deuce is a proud member of the Podcast Collective! Head over to PodcastCollective.com to find tons of other great podcasts!
Show Notes:
NBA
Utah Jazz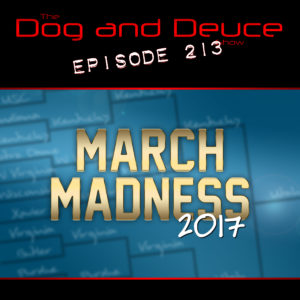 After losing to the Thunder it looked like the Jazz might be on the verge of a losing streak. But Quin Snyder's team was able to out-bully the bullies to earn a hard fought victory against the Clippers. Defense, toughness and shooting 67% from three were the keys to the game. But how sustainable is that level of play if these two teams meet in the playoffs?
There is no doubt that Gordon Hayward has taken his game to a new level this season. But is he the Jazz's most valuable player?
College Basketball
March Madness 2017
Its finally here! March Madness tips off today which means four straight days of basketball. We run through our brackets and pick the Final Four and national champions.
---
Call or text the D & D Voicemail and Text Line at 801-47-SPORT (801-477-7678) and let us know what you think
Subscribe, rate or review us in iTunes
Listen or subscribe on Google Play Music
Check us out on YouTube
Leave us a comment on Facebook
Find us on Google Plus
Follow us on Twitter: @DogAndDeuce
Follow Dog on Twitter: @AMartindaleFilm
Send us an email at DogAndDeuce@gmail.com
Find more great podcasts over at The Podcast Collective