Podcast: Play in new window | Download

Subscribe to the show in iTunes.  You can also leave a quick rating or leave a review.


Listen or subscribe on Google Play Music.

Hear the show on TuneIn Radio.

Watch every episode at SouthernUtahLive.com.
Allen has a new podcast!
If you are a music nerd we think you'll enjoy Talk Music To Me. It features independent music, interviews with artists and lots of reviews. Check it out over at talkmusictomeslc.com (or on iTunes, Google Play Music and Stitcher Radio).
Dog and Deuce is a proud member of the Podcast Collective! Head over to PodcastCollective.com to find tons of other great podcasts!
Show Notes:
NBA
Playoffs: Utah Jazz / Los Angeles Clippers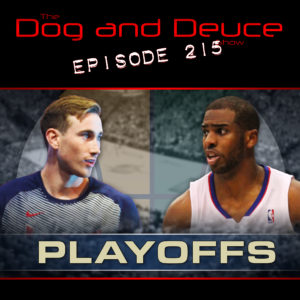 After two games the first round series between the Jazz and Clippers is all tied up. The series comes to Salt Lake City but Utah will have to play without Rudy Gobert. What do they need to do to make up for this huge loss?
2017 NBA Playoffs
We break down each first round series. Was Paul George right to call out his teammates after both games? Can Russell Westbrook upset James Harden and the Rockets?
NFL
Aaron Hernandez committed suicide in his jail cell yesterday. We talk about this and what it means for the victims and Hernandez's family.
---
Call or text the D & D Voicemail and Text Line at 801-47-SPORT (801-477-7678) and let us know what you think
Subscribe, rate or review us in iTunes
Listen or subscribe on Google Play Music
Check us out on YouTube
Leave us a comment on Facebook
Find us on Google Plus
Follow us on Twitter: @DogAndDeuce
Follow Dog on Twitter: @AMartindaleFilm
Send us an email at DogAndDeuce@gmail.com
Find more great podcasts over at The Podcast Collective