Podcast: Play in new window | Download

Subscribe to the show in iTunes.  You can also leave a quick rating or leave a review.


Listen or subscribe on Google Play Music.

Hear the show on TuneIn Radio.

Watch every episode at SouthernUtahLive.com.
Our podcast network
Dog and Deuce is a proud member of the Podcast Collective! Head over to PodcastCollective.com to find tons of other great shows!
Show Notes:
NBA
2017 NBA Finals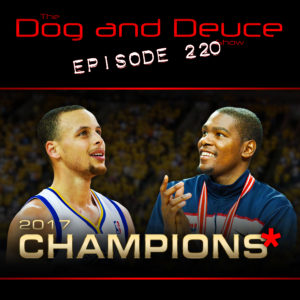 The 2017 NBA Finals, needless to say, fell well short of the hype. Golden State made quick work of Cleveland which led to immediate criticism of both Kevin Durant and LeBron James. Was Durant really taking the easy way out? Is there an asterisk by this championship? Are the Warriors (and the superteam phenomenon) bad for the league? What does this loss do for LeBron's legacy?
PGA Tour
2017 U.S. Open
As of the time of our recording Phil Mickelson still hadn't withdrawn from the U.S. Open despite his claim that he wouldn't play. Does Mickelson owe it to first alternate Roberto Diaz to make his decision official? Or is it smart for him to keep his options open?
Boxing / UFC
Floyd Mayweather vs Conor McGregor
It was announcement came down this week that Mayweather vs McGregor will officially happen! The much anticipated match will go down on August 24. Will it be worth ordering on pay-per-view? Does Conor McGregor stand a chance against an aging yet technical Floyd Mayweather?
---
Call or text the D & D Voicemail and Text Line at 801-47-SPORT (801-477-7678) and let us know what you think
Subscribe, rate or review us in iTunes
Listen or subscribe on Google Play Music
Check us out on YouTube
Leave us a comment on Facebook
Find us on Google Plus
Follow us on Twitter: @DogAndDeuce
Follow Dog on Twitter: @AMartindaleFilm
Send us an email at DogAndDeuce@gmail.com
Find more great podcasts over at The Podcast Collective