Podcast: Play in new window | Download

Subscribe to the show in iTunes.  You can also leave a quick rating or leave a review.


Listen or subscribe on Google Play Music.

Hear the show on TuneIn Radio.

Watch every episode at SouthernUtahLive.com.
Our podcast network
Dog and Deuce is a proud member of the Podcast Collective! Head over to PodcastCollective.com to find tons of other great shows!
Show Notes:
NBA
Utah Jazz / NBA Offseason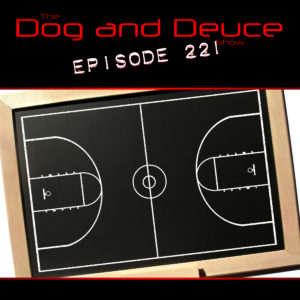 Its early into the NBA offseason but it has already been entertaining. On this episode we dive deep into the moves made so far. How do the Chris Paul and Jimmy Butler trades affect the Jazz's ability to re-sign Gordon Hayward? Are Utah's draft picks going to be part of the pitch?
New York Knicks / Phil Jackson
James Dolan fired Phil Jackson early this week in what may be the first time the Knicks owner has every received universal praise. We won't lie, we take a little pleasure in seeing Jackson get canned.
---
Call or text the D & D Voicemail and Text Line at 801-47-SPORT (801-477-7678) and let us know what you think
Subscribe, rate or review us in iTunes
Listen or subscribe on Google Play Music
Check us out on YouTube
Leave us a comment on Facebook
Find us on Google Plus
Follow us on Twitter: @DogAndDeuce
Follow Dog on Twitter: @AMartindaleFilm
Send us an email at DogAndDeuce@gmail.com
Find more great podcasts over at The Podcast Collective