Podcast: Play in new window | Download

Subscribe to the show in iTunes.  You can also leave a quick rating or leave a review.


Listen or subscribe on Google Play Music.

Hear the show on TuneIn Radio.

Watch every episode at SouthernUtahLive.com.
Our podcast network
Dog and Deuce is a proud member of the Podcast Collective! Head over to PodcastCollective.com to find tons of other great shows!
Show Notes:
Listener comments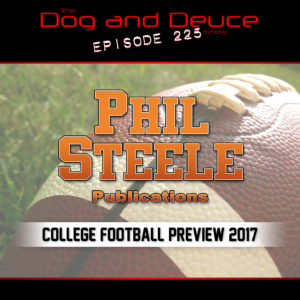 Thanks to Tyler Kenney for contributing to this week's show!
Phil Steele Publications
College Football Preview 2017
Antonio Castro from Phil Steele Publications joins us to preview the upcoming college football season. He explains what we can expect to see from the Utes, Cougars & Aggies in 2017 and gives a definitive prediction for the Utah/BYU game!
NBA
Cleveland Cavaliers
First news leaked that Kyrie Irving wanted out of Cleveland. Then we see footage of he and Stephen Curry making fun of LeBron James' workout video. What does this say about Irving? What does it say about James?
---
Call or text the D & D Voicemail and Text Line at 801-47-SPORT (801-477-7678) and let us know what you think
Subscribe, rate or review us in iTunes
Listen or subscribe on Google Play Music
Check us out on YouTube
Leave us a comment on Facebook
Find us on Google Plus
Follow us on Twitter: @DogAndDeuce
Follow Dog on Twitter: @AMartindaleFilm
Send us an email at DogAndDeuce@gmail.com
Find more great podcasts over at The Podcast Collective