Podcast: Play in new window | Download

Subscribe to the show in iTunes.  You can also leave a quick rating or leave a review.


Listen or subscribe on Google Play Music.

Hear the show on TuneIn Radio.

Watch every episode at SouthernUtahLive.com.
Our podcast network
Dog and Deuce is a proud member of the Podcast Collective! Head over to PodcastCollective.com to find tons of other great shows!
Show Notes:
2017 College Football Preview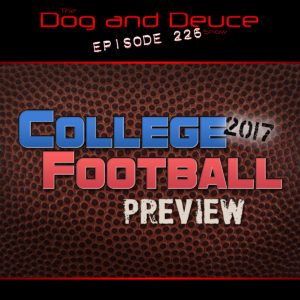 In part two of our 2017 college football preview we dive into the schedules for the Utes, Cougars and Aggies.
How many games will each team win?
Where are their strengths?
Which positions will pose problems?
Can Tanner Mangum shake off being passed over for the starting job in 2016?
Will Kyle Whittingham actually let Troy Taylor air out the ball?
What does Matt Wells need to do to get the Aggies back to a bowl game?
Who will win this year's Holy War?
---
Call or text the D & D Voicemail and Text Line at 801-47-SPORT (801-477-7678) and let us know what you think
Subscribe, rate or review us in iTunes
Listen or subscribe on Google Play Music
Check us out on YouTube
Leave us a comment on Facebook
Find us on Google Plus
Follow us on Twitter: @DogAndDeuce
Follow Dog on Twitter: @AMartindaleFilm
Send us an email at DogAndDeuce@gmail.com
Find more great podcasts over at The Podcast Collective