Podcast: Play in new window | Download

Subscribe to the show in iTunes.  You can also leave a quick rating or leave a review.


Listen or subscribe on Google Play Music.

Hear the show on TuneIn Radio.

Watch every episode at SouthernUtahLive.com.
Our podcast network
Dog and Deuce is a proud member of the Podcast Collective! Head over to PodcastCollective.com to find tons of other great shows!
Show Notes:
College Football
BYU Cougars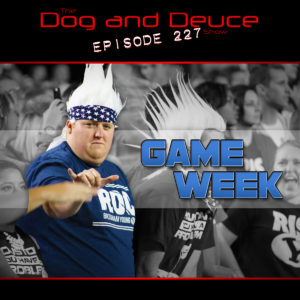 The Cougars will take center stage this weekend as they host Portland State. This shouldn't be much of a game but is there any chance BYU is looking ahead to LSU?
Francis Bernard was recently suspended for the 2017 season for an undisclosed honor code violation. Should he be allowed to transfer? Should BYU be more transparent with violations? Should they just get rid of the honor code altogether?
Utah Utes
The Utes finally announced that Tyler Huntley will be the starting quarterback this season. This is a move that surprised a lot of people. We discuss the pros and cons of benching Troy Williams (a guy that won nine games in a stacked conference).
NBA
Cleveland Cavaliers / Boston Celtics
Yet another blockbuster deal went down this offseason. Kyrie Irving will head to Boston in exchange for Isaiah Thomas, Jae Crowder, Ante Zizic and a likely lottery pick in next year's draft. We break down this monster trade and try to figure out who came out the winner.
---
Call or text the D & D Voicemail and Text Line at 801-47-SPORT (801-477-7678) and let us know what you think
Subscribe, rate or review us in iTunes
Listen or subscribe on Google Play Music
Check us out on YouTube
Leave us a comment on Facebook
Find us on Google Plus
Follow us on Twitter: @DogAndDeuce
Follow Dog on Twitter: @AMartindaleFilm
Send us an email at DogAndDeuce@gmail.com
Find more great podcasts over at The Podcast Collective