Podcast: Play in new window | Download

Subscribe to the show in iTunes.  You can also leave a quick rating or leave a review.


Listen or subscribe on Google Play Music.

Hear the show on TuneIn Radio.

Watch every episode at SouthernUtahLive.com.
Our podcast network
Dog and Deuce is a proud member of the Podcast Collective! Head over to PodcastCollective.com to find tons of other great shows!
Show Notes:
College Football
BYU Cougars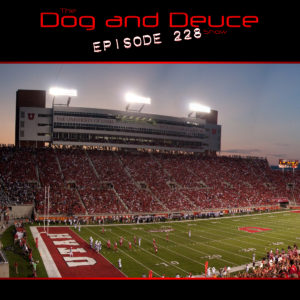 After struggling in their opener against Portland State the Cougars will head to New Orleans to take on the juggernaut that is LSU. We preview the game and make our picks.
Utah Utes
Utah kicks off tonight against North Dakota. Could the Fighting Hawks give the Utes any trouble? Should Tyler Huntley play the entire game? Should Kyle Whittingham give any snaps to Troy Williams?
Utah State Aggies
The Aggies begin their season with a big challenge. They will hit the road to take on Wisconsin. What does Matt Wells need to do to stay competitive and hopefully pull off a huge upset?
Francis Bernard
A video leaked that may give some insight into why Francis Bernard has been suspended by BYU. Take a look and let us know what you think. Did he have a right to be angry?

---
Call or text the D & D Voicemail and Text Line at 801-47-SPORT (801-477-7678) and let us know what you think
Subscribe, rate or review us in iTunes
Listen or subscribe on Google Play Music
Check us out on YouTube
Leave us a comment on Facebook
Find us on Google Plus
Follow us on Twitter: @DogAndDeuce
Follow Dog on Twitter: @AMartindaleFilm
Send us an email at DogAndDeuce@gmail.com
Find more great podcasts over at The Podcast Collective