Podcast: Play in new window | Download

Subscribe to the show in iTunes.  You can also leave a quick rating or leave a review.


Listen or subscribe on Google Play Music.

Hear the show on TuneIn Radio.

Watch every episode at SouthernUtahLive.com.
Our podcast network
Dog and Deuce is a proud member of the Podcast Collective! Head over to PodcastCollective.com to find tons of other great shows!
Show Notes:
College Football
BYU Cougars / Utah State Aggies
Its already been a rough season for the Cougars but things got worse last Friday. Not only did they get embarrassed by rival Utah State but the Aggies managed to knock out second string quarterback Beau Hoge. BYU turned the ball over seven times (including getting picked off by Jalen Davis three times) and headed back to Provo to lick their wounds.
With their top two quarterbacks hurt will Kalani Sitake choose to burn the redshirts of Joe Critchlow or Kody Wilstead? Or will he stick with Koy Detmer Jr. who threw three interceptions against Utah State? What adjustments need to be made to stop the bleeding against Boise State on Friday?
For the Aggies this win couldn't have come at a better time. After a few tough losses to start off the season they badly needed a win to boost their confidence heading back into conference play. Can this be the victory that springboards them into a successful Mountain West season?
They face a big test this weekend as they host Colorado State. With Eltoro Allen dinged up can Matt Wells depend on his defense to continue to put points on the board?
Utah Utes
Coming off an early BYE week, Utah will host the Stanford Cardinal at Rice Eccles Stadium on Saturday night. The Utes are leading the Pac-12 in rush defense but the competition to this point has been less than stellar. It will certainly be tested against Bryce Love who might be the best running back in the country.
Will Tyler Huntley play? If not can Troy Williams be effective enough to get the run game going? Will we see Troy McCormick get some touches?
NBA
Utah Jazz
After what was one of the most eventful offseasons in franchise history the Utah Jazz took the court for preseason play this week. Although they haven't played an NBA team yet there are still some positives that we can take away from the first two exhibition games.
All-Star Game
The NBA has decided to dramatically change up the All-Star game. But will it make it any more entertaining? And when will Adam Silver give James a call to consult?
NFL
Week 5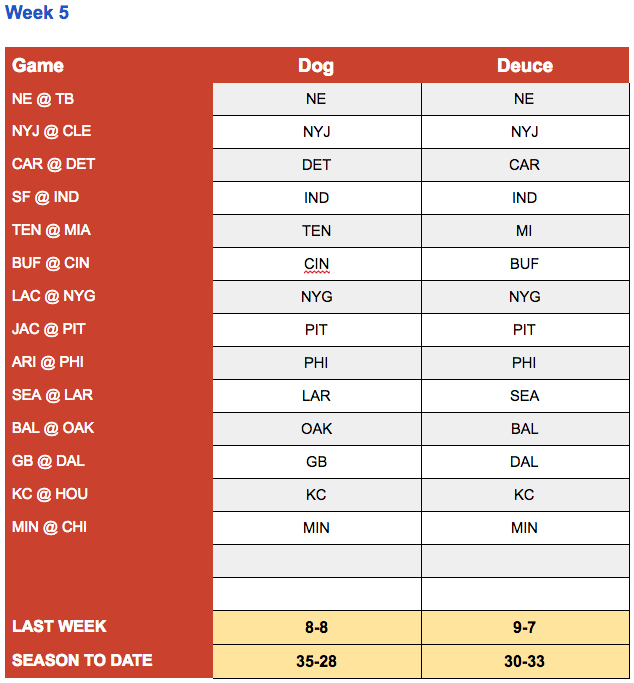 ---
Call or text the D & D Voicemail and Text Line at 801-47-SPORT (801-477-7678) and let us know what you think
Subscribe, rate or review us in iTunes
Listen or subscribe on Google Play Music
Check us out on YouTube
Leave us a comment on Facebook
Find us on Google Plus
Follow us on Twitter: @DogAndDeuce
Follow Dog on Twitter: @AMartindaleFilm
Send us an email at DogAndDeuce@gmail.com
Find more great podcasts over at The Podcast Collective