Podcast: Play in new window | Download

Subscribe to the show in iTunes.  You can also leave a quick rating or leave a review.


Listen or subscribe on Google Play Music.

Hear the show on TuneIn Radio.

Watch every episode at SouthernUtahLive.com.
Our podcast network
Dog and Deuce is a proud member of the Podcast Collective! Head over to PodcastCollective.com to find tons of other great shows!
Show Notes:
College Football
Utah Utes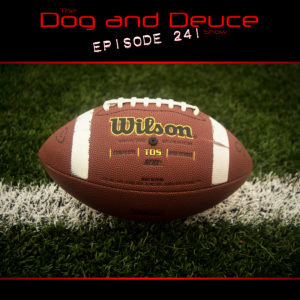 The Utes made a huge hire this week when they brought on Gary Andersen as an associate head coach. This led a few members of the local media to speculate that Kyle Whittingham is preparing to leave Utah. Is this just an attempt to stir the pot? Or could this actually be a legitimate possibility?
Click here to read Gordon Monson's column.
The 2014 piece in which he claimed that Whittingham would be leaving to coach at BYU can be found here.
2018 College Football Playoff
This year's Rose Bowl was epic. Georgia beat Baker Mayfield and Oklahoma in a double overtime nail biter. In the Sugar Bowl, Alabama got revenge on Clemson in a game that was much less exciting.
We preview the national championship game between the Bulldogs and Crimson Tide. Will Nick Saban remain perfect when coaching against former assistants? Can freshman Jake Fromm step it up on the biggest stage possible?
NFL
2018 NFL Playoffs
We preview the NFL's Wild Card weekend. Who could have imagined that both the Jaguars and Bills would be in the playoffs?
NBA
Utah Jazz
Donovan Mitchell just seems to get better and better. Jazz fans have not seen a rookie this exciting since Derrell Griffith (and maybe not ever). But is it still too early to buy into all the hype? We debate Mitchell's potential.
---
Call or text the D & D Voicemail and Text Line at 801-47-SPORT (801-477-7678) and let us know what you think
Subscribe, rate or review us in iTunes
Listen or subscribe on Google Play Music
Check us out on YouTube
Leave us a comment on Facebook
Find us on Google Plus
Follow us on Twitter: @DogAndDeuce
Follow Dog on Twitter: @AMartindaleFilm
Send us an email at DogAndDeuce@gmail.com
Find more great podcasts over at The Podcast Collective