Podcast: Play in new window | Download

Subscribe to the show in iTunes.  You can also leave a quick rating or leave a review.


Listen or subscribe on Google Play Music.

Hear the show on TuneIn Radio.

Watch every episode at SouthernUtahLive.com.
Our podcast network
Dog and Deuce is a proud member of the Podcast Collective! Head over to PodcastCollective.com to find tons of other great shows!
Show Notes:
NBA
Utah Jazz / Chicago Bulls
Things might be looking up for the Utah Jazz. There have been many reports this week that the Jazz and Bulls are working on a deal to bring Nikola Mirotic to Salt Lake City. We take a look at the possible trade options and what might stand in the way.
NFL
2018 NFL Playoffs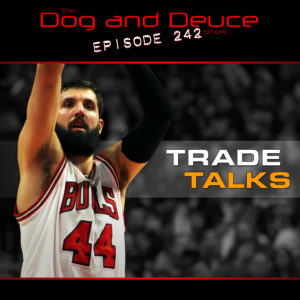 We break down the NFL's Wildcard Weekend and preview this week's Divisional Round.
Jon Gruden / Oakland Raiders
Jon Gruden is the new coach of the Oakland Raiders. Gruden agreed to a historic ten year, $100 million contract. Was this a smart hire for Mark Davis? Is anyone worth that kind of money?
College Football
College Football National Championship
The finale of the college football season was every bit as exciting as we hoped. It took overtime but Alabama beat Georgia, securing Nick Saban's sixth national championship. We break down the story laden game.
---
Call or text the D & D Voicemail and Text Line at 801-47-SPORT (801-477-7678) and let us know what you think
Subscribe, rate or review us in iTunes
Listen or subscribe on Google Play Music
Check us out on YouTube
Leave us a comment on Facebook
Find us on Google Plus
Follow us on Twitter: @DogAndDeuce
Follow Dog on Twitter: @AMartindaleFilm
Send us an email at DogAndDeuce@gmail.com
Find more great podcasts over at The Podcast Collective