Podcast: Play in new window | Download

Subscribe to the show in iTunes.  You can also leave a quick rating or leave a review.


Listen or subscribe on Google Play Music.

Hear the show on TuneIn Radio.

Watch every episode at SouthernUtahLive.com.
Our podcast network
Dog and Deuce is a proud member of the Podcast Collective! Head over to PodcastCollective.com to find tons of other great shows!
Show Notes:
NFL
Super Bowl LII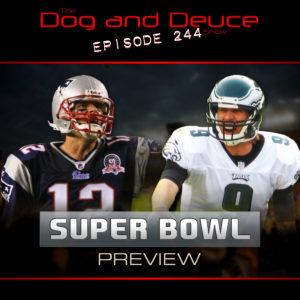 The Patriots managed to come from behind to beat the Jaguars in the AFC Championship. Now they are headed back to the Super Bowl to face an over achieving Nick Foles and a tough Eagles defense. We preview the game and make our picks.
Tom Brady and the Patriots are widely despised by most NFL fans. What makes them so unlikable? Is it their consistent success? Is it because they've been caught cheating twice? Or could it be a result of the over saturation in the social media age?
NBA
Utah Jazz
The Jazz got revenge on Golden State in a big way. They blew out the defending champs by thirty points on Monday, leading us to wonder if a playoff spot is really out of the picture.
---
Call or text the D & D Voicemail and Text Line at 801-47-SPORT (801-477-7678) and let us know what you think
Subscribe, rate or review us in iTunes
Listen or subscribe on Google Play Music
Check us out on YouTube
Leave us a comment on Facebook
Find us on Google Plus
Follow us on Twitter: @DogAndDeuce
Follow Dog on Twitter: @AMartindaleFilm
Send us an email at DogAndDeuce@gmail.com
Find more great podcasts over at The Podcast Collective