Fireman Ed has been a New York Jets superfan for nearly four decades.  Recently he decided to retire from his Fireman Ed persona, citing too many encounters with Jets fans who disagreed with his steadfast support for Mark Sanchez.  A few weeks earlier he was a guest on the Dog and Deuce Show and discussed (among other things) his support for Sanchez and his thoughts on Tim Tebow.  You can listen to the episode that he appeared on below.
Podcast: Play in new window | Download
Subscribe to the show in iTunes.  You can also leave a quick rating or leave a review.
Check out the new D&D Show YouTube page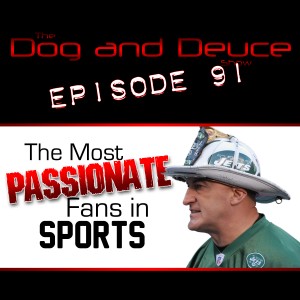 Super Fan Series, part 1: Fireman Ed
Follow Fireman Ed on Twitter: @FiremanEd42
Check out Fireman Ed's website for background info, pictures, and a link to purchase his app: FiremanEd.net
___________________________
Call or text the D & D Voicemail and Text Line at 801-47-SPORT (801-477-7678) and let us know what you think
Subscribe, rate or review us in iTunes
Check us out on YouTube
Leave us a comment on Facebook
Find us on Google Plus
Follow us on Twitter: @DogAndDeuce
Follow Dog on Twitter: @TheDog801
Send us an email at Feedback@DogAndDeuce.com

Opening and closing song: "Salt Lake City" by The Dwarves.  Music for this episode provided by Mevio's Music Alley.  Check it out at music.mevio.com